eTemperature is compatible with the range of Thermocron temperature and humidity loggers. Here are the steps to configure one with eTemperature.
Step 1: Plug in the reader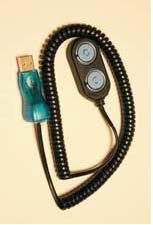 The reader is the cable that was supplied in the kit. It will typically be a USB device at one end and either a double blue circle or a 45° angled connector at the other.
Step 2: Run eTemperature
Run eTemperature by double clicking on its icon or by finding it within the Start Menu.


You should see "Waiting" in the status area.

Step 3: Plug the logger into the reader
The logger is the small "watch battery" looking device that may be on a plastic holder. The logger will "click" into place The details tab should now appear with the following options available: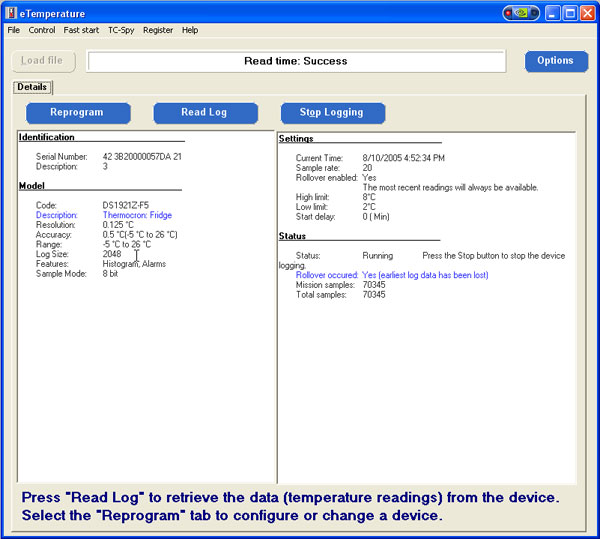 The status section (right hand box, lower section) displays if the unit is running and how many (mission) samples have been taken.
Step 4: Press "Reprogram"
The following screen will appear:
Step 5: Enter the description.
The description should include the company name and item being monitored.
Step 6: Set the sample rate
The sample rate is typically 5 to 30 minutes.
Step 7: Set the alarm limits
For refrigerated items: Low = 0°C to High = 5°C
For vaccines: Low = 2°C to High = 8°C
For frozen items: Low = -20°C to High = -12°C
For room temperature: Low = 20°C High = 25°C
(These values are suggestions only. Values may vary depending upon country and contents.)
Step 8: Optional- Press "Stop logging"
This is only necessary if the unit is running.
Step 9: Press "Start Logging".
If the "Start Logging" button is not enabled but the "Stop Logging" is, then press it first.
Step 10: Remove the logger
Step 11: Repeat steps 3 to 9 for the other units.